Access to water in health systems, schools and food markets of the Global South : challenges and solutions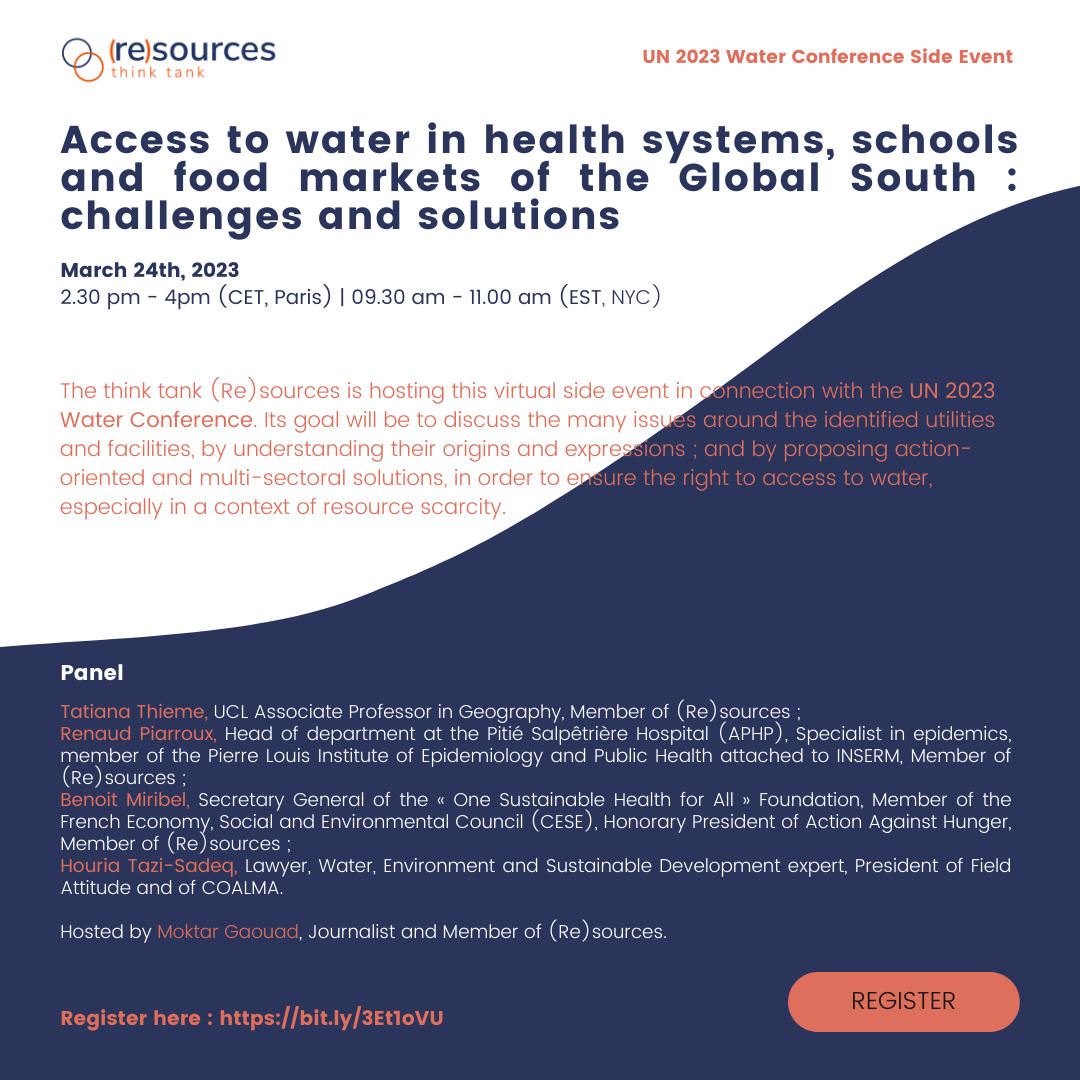 The think tank (Re)sources is hosting a virtual side event in connection with the UN 2023 Water Conference on Mars 24th, from 2.30 pm to 4.00 pm (CET, Paris) | 09.30 am – 11.00 am (EST, New York City) on the following subject : « Access to water in health systems, schools and food markets of the Global South : challenges and solutions ».
Inequitable, poor, degraded or lack of access to basic water services poses a fundamental threat to education, health and food market facilities.
The realities of utilities and facilities are thus closely tied, and the examples of food markets, health centers and school's access to water in the Global South illustrate so. Poor water quality and lack of sanitation facilities have a negative impact not only on health but also on issues such as food security and educational opportunities for poor families around the world.
The issues at stake thus raise questions about food sovereignty, economic development, security, and many others., Enabling access to water and sanitation facilitates economic dynamics around markets and beyond ; addresses waterborne diseases and malnutrition ; eases and strengthens medical care, by also reducing financial losses of health systems in developing countries ; and encourages children's education, particularly that of young girls.
The goal of this side event will be to discuss these many issues, by understanding their origins and manifestations ; and by proposing action-oriented and multi-sectoral solutions, in order to ensure the right to access to water (UN Resolution 64/292 (2010)), especially in a context of resource scarcity, in these types of facilities.
This will lead us to address a variety of subjects such as the various uses of water, traditional and alternatives techniques, global approaches to territorial resilience and water, economic opportunities, and environmental health.
Panel :
Tatiana Thieme, UCL Associate Professor in Geography, Member of (Re)sources ;
Renaud Piarroux, Head of department at the Pitié Salpêtrière Hospital (APHP), Specialist in epidemics, member of the Pierre Louis Institute of Epidemiology and Public Health attached to INSERM, Member of (Re)sources ;
Benoit Miribel, Secretary General of the « One Sustainable Health for All » Foundation, Honorary President of Action Against Hunger, Member of (Re)sources ;
Houria Tazi-Sadeq, Lawyer, Water, Environment and Sustainable Development expert, President of Field Attitude and of COALMA.
Hosted by Moktar Gaouad, Journalist and Member of (Re)sources.