How COVID-19 is Affecting Zimbabwe's Water Shortage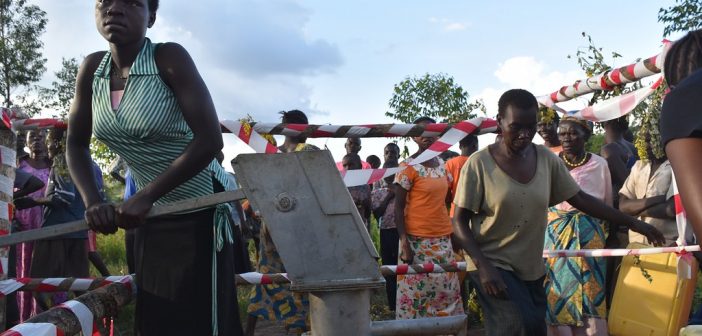 SEATTLE, Washington, — On March 30, President Mnangagwa of Zimbabwe mandated a national "total lockdown" due to the COVID-19 pandemic. With reported cases in Zimbabwe rising, he asked citizens to stay indoors, with exceptions of necessity. Despite this order, approximately 10 million people throughout Zimbabwe must secure water daily for their families due to the continuing 96-hour water cuts and Zimbabwe's water shortage.
Zimbabwe's Water Shortage
The water shortage in Zimbabwe started in November 2019 and resulted in Zimbabwe instituting a 96-hour water-shedding. This practice involves the storing of water in reserves for a period of time. Yet, even with this practice in place, Zimbabwe's water supplies are running thin, forcing many citizens to use boreholes.
Zimbabweans living in Harare, Zimbabwe's capital, usually wait up to four hours to fill their buckets at these shared boreholes. Waiting in queues of 300 to 400 people per borehole, social distancing and basic hygiene are forgotten in the pursuit of essential hydration.
COVID-19 Affecting Water Supply
The Borgen Project spoke with Anesu Chirarapasi, a member and CFO of the Community Water Alliance (CWA), a group that advocates for better water sources in Zimbabwe, about how the virus has impacted people's access to water.
When COVID-19 first hit Zimbabwe, CWA worked to prevent cross-contamination in the community boreholes by providing sanitation supplies. Chirarapasi was "tasked with sanitizing residents at boreholes," who wait in line for their daily pail of water. When asked how the group was raising awareness for social distancing measures, Chirarapasi expounded on their efforts saying, "The first two days we were only using liquid soap[…] until a local councilor from [CWA] donated to us two liters of sanitizer."
The CWA has used these "sanitation stations" since April 8, 2020, but "ran out of supplies after three days of use." The group is now focusing on raising "awareness of good conduct on boreholes […] especially [concerning]social distancing," until they can secure more supplies. To lower the number of people visiting the crowded boreholes, CWA has also started to work on fixing broken water pipes and boreholes to increase water source options throughout Harare.
Members of the CWA fill their days fixing rusted water valves, pumps and water meters. Since its conception, the CWA has built or restored nine water sources in Harare, providing clean water to one-fourth of the city's population and decreasing the water shortage in Zimbabwe.
Fighting COVID-19 With a Water Supply Crisis
Although much has been done to stop the spread of COVID-19 in Zimbabwe, there is still much to be done. Because of the recently mandated lockdown, the CWA's efforts have been cut-off. The lockdown has also caused boreholes to become unsupervised. If these boreholes are continuously left unchecked, access to clean water will be impossible.
Moreover, 10 million people must continue to go to boreholes to gather their water supply, filling their buckets with the same levers used by the people before them. If precautions lessen, there will be no resources available for citizens to clean their hands. Additionally, essential preventative supplies like masks and gloves are scarce. Many Zimbabweans must now ask themselves whether water or their health is more important.
Looking Ahead
Despite these water shortage conditions, much is being done to help. Nonprofit organizations such as the Water Project continue to provide clean water to impoverished countries amid the lockdown, giving hope to Zimbabweans in need. Moreover, once the pandemic ends, the CWA will continue its efforts to update water sources throughout Harare and fight Zimbabwe's water shortage crisis.
Source : Borgen Magazine